Hello everyone. I hope your weekend is going great so far. I had a connection problem that lasted for two days (Friday to Saturday) but now I'm back. Thanks so much WOYWWers for the all sweet comments, I've visited only about twenty, but I'll be back later tonight and visit the rest of you hopefully.
I love whoever invented android phones, as I was able to grab this week's free image courtesy of
Sassy Studio Designs
in Paper Craft Planet. And special thanks to public wifi spots in town for the free internet. Hahaha.
I really think the Sassy Girls love partying! Look at the image. :) Above is the card I created using Martini Pinup.
I tried stitching, but it turned out a disaster. The top and the the bottom stitches looks like they were done by two different people. Really fugly. But I have to move on. Harharhar.
I'm linking this up to the following:
Sassy Studio Designs Fabulous Freebie Friday 2-24-12
Sassy Chery's Challenge #103 - No Embossing
Crafts and Me Challenge #72 - Shades of Spring
Make it Monday #78 with Di's and Digi Downloads
Card Patterns' Sketch 154
Inspire Me Monday - Week 8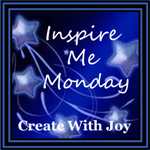 Thanks for visiting!